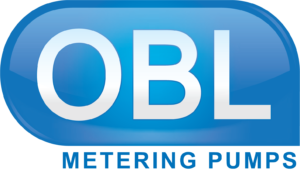 OBL makes high quality, plunger, directly driven and hydraulically driven membrane dosing pumps.
The OBL plunger dosing pumps are available in API 675. These OBL pumps are available for pressures of up to a maximum of 400 bar. Because of the pumps robust construction it is highly suited for continuous use.
OBL's directly driven membrane dosing pumps are available up to a maximum capacity of 520 litres per hour and a maximum pressure of 12 bar.
This series of pumps comes equipped with an anodised gearbox which makes these pumps resistant to corrosion and so they are highly suited to environments with a corrosive atmosphere.
The OBL hydraulically driven membrane dosing pumps come in a wide range of designs.The best of the bunch are the API 675 pumps as they are the front runners in terms of technology.
In addition to these OBL pumps reaching a maximum pressure of 250 bar and have a highly robust design, they also have a unique recirculation system for the barrier liquid. This system ensures the barrier liquid is released when under too much pressure, which means the pumps can operate against a closed press and that the barrier liquid automatically returns once the pressure in the discharge line drops once more. These OBL pumps are unique as in contrast to other brands, these pumps keep operating under a high vacuum.
To learn more visit : OBL
OBL Blackline Pro Pump Controller
Model
Description
Download
OBL Blackline Pro
- IP65 Cataphoresis coated aluminum enclosure for greater corrosion resistance

- Improved ergonomics, clear and easy-to-read 45° angle display

- User friendly jog dial selector to navigate the menu
- 0° – 90° variable gearbox orientation

- 10 different operating modes to fit any type of dosing application

- 6 types of connection including 4-20mA and MODBUS

- Compatible with M, R, XRN pump series
Datasheet
Mechanical Diaphragm
| | Model | Flow rate | Viscosity | Max. Operating Pressure | Temperature | Download |
| --- | --- | --- | --- | --- | --- | --- |
| | OBL Blackline M Series | 7...1.500 l/h | | 12 bar | | Datasheet |
Plunger
| | Model | Flow rate | Viscosity | Max. Operating Pressure | Temperature | Download |
| --- | --- | --- | --- | --- | --- | --- |
| | OBL Blackline R Series | 7...1.000 l/h | 55.000 cps | 100 bar | 90 °C | Datasheet |
| | OBL Topline L Series | 0,2...5.500 l/h | | 500 bar | | Datasheet |
Hydraulic Diaphragm
| | Model | Flow rate | Viscosity | Max. Operating Pressure | Temperature | Download |
| --- | --- | --- | --- | --- | --- | --- |
| | OBL Blackline XRN Series | 0,6...105 l/h | | 40 bar | | Datasheet |
| | OBL Topline XL | 63...1.500 l/h | | 20 bar | | Datasheet |
| | OBL Topline LX9 | 0,4...3.730 l/h | | 300 bar | | Datasheet |
Heavy Duty Plunger
| | Model | Flow rate | Viscosity | Max. Operating Pressure | Temperature | Download |
| --- | --- | --- | --- | --- | --- | --- |
| | OBL Blackline RH Series | 29...620 l/h | | 40 bar | | Datasheet |
Plunger and Mechanical Diaphragm
| | Model | Flow rate | Viscosity | Max. Operating Pressure | Temperature | Download |
| --- | --- | --- | --- | --- | --- | --- |
| | OBL Blackline H Series | 29...160 l/h | | 10 bar | | |